Schatton-Modellbau produces a range of metal gun barrels in various scales for armour and aircraft models. Their latest effort is designed for the new Hasegawa 1/32 scale Junkers Ju 87G Stuka.
The big 3.7cm Flak 36/37 guns are the focal point of this big, aggressive aircraft. Hasegawa's kit is very well detailed, but the limitations of the injection plastic moulding process means that the holes and slots on the muzzle brake are recessed, not actually drilled through as was the case on the real thing.
Schatton-Modellbau's 1/32 scale 3.7cm Flak 36/37 barrels address this issue. Each barrel is supplied as a single part in machined brass. The subtle taper of the barrel is faithfully reproduced, as is the shape of the flared, hollow muzzle brake. The holes and slots in the muzzle brake are precisely drilled.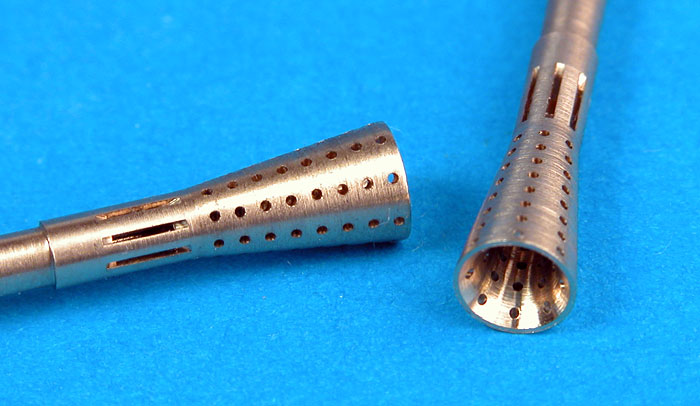 The effect is equally impressive when viewed from the outside of the barrel, or when looking straight into the muzzle brake from the front.
No preparation is required for these barrels - they come ready to use. You will only have to cut the kit's plastic barrels from the body of the gun before installing the new brass parts.
I have also been advised that Schatton-Modellbau will soon be offering 3.7cm shells and cartridges for this gun.
Some model accessories are simply luxurious. In my opinion, Schatton-Modellbau's 1/32 scale 3.7cm Flak 36/37 barrels fall into this category.
They are beautifully produced, should be dead easy to install, and will have an obvious impact on the finesse of your completed Stuka Tankbuster.
Highly Recommended.
Thanks to Schatton-Modellbau for the review sample
---
A full price list of this and their other products is available on Schatton's website http://www.modellbau-schatton.privat.t-online.de. Orders may be placed via email.