HyperScale is proudly sponsored by Meteor Productions

Trumpeter's 1/32 scale P-38J/L Lightning is a good kit - well detailed, accurate and nice surface detail. Cutting Edge Modelworks now offers some very interesting options for backdating, converting and superdetailing this kit.
All four sets reviewed share high quality of casting we have come to expect of Cutting Edge. All parts in each of my samples are flawlessly cast.
Each set is accompanied by an instruction sheet with explanatory text and images. The resin parts are securely packed inside a stout cardboard box plus bubblewrap protection inside.
The conversions and cockpits are as follows:
CEC32156 P-38F/G/H Conversion
for Trumpeter
This set will transform the 1/32 scale Trumpeter P-38J/L into P-38F, P-38G, or P-38H variants. This is a major conversion that completely replaces the forward and lower nacelles, and also includes the boom oil coolers and scoops, supercharger covers and the early style windscreen.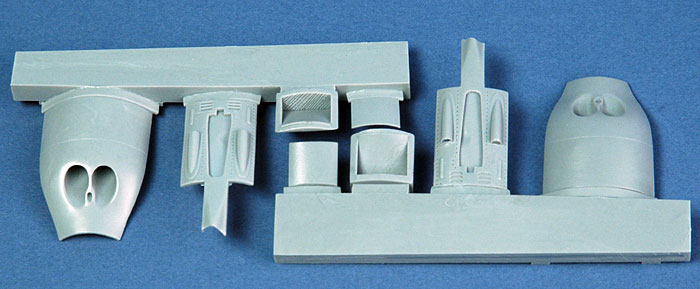 Click thumbnails below to view larger images :
---
Cleanup of the parts will be quite straightforward, as there are no imposing casting blocks.
The clear resin windscreen is very clear and free of distortion.
---
CEC32157 P-38F/G/H Super Detailed Cockpit
Cutting Edge has replaced all the cockpit parts in the Trumpeter kit with their own resin replacement.
Not only are the resin parts better detailed than their kit counterparts, and accurate for the early versions of the Lightning, there are also significantly fewer parts. These perfectly cast parts will look great under a careful paint job.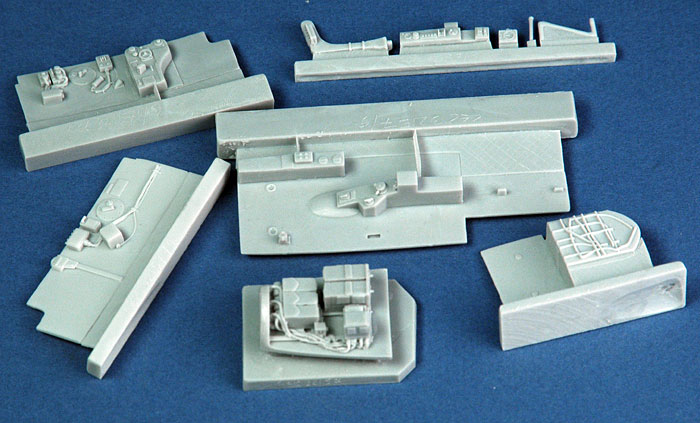 Cutting Edge has included a bare seat and a set of their unique flexible resin harness straps.
The radio looks particularly good, and is quite different from the later version found in the P-38J/L.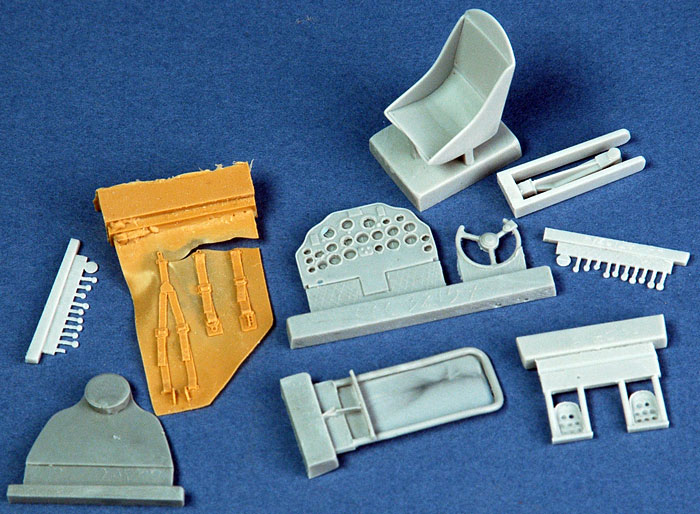 This cockpit will be an essential companion to the early P-38 exterior airframe conversion
---

CEC32156 F-4A/F-5A/F-5B/F-5C Conversion
for Trumpeter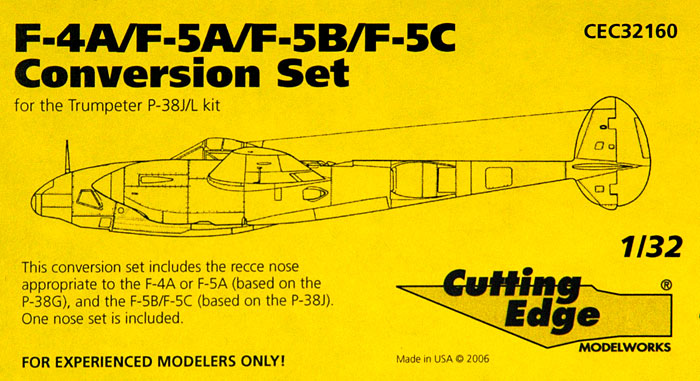 If you have always had a hankering to build an large scale, early twin-tailed spy-in-the-sky, now is your chance.
Cutting Edge has added yet more options to the Trumpeter P-38 by offering a 1/32 scale F-4A/F-5A/F-5B/F-5C Conversion.
Considering this is a large conversion replacing the entire nose, it is fairly simple in its parts breakdown. Just seven parts in grey resin and seven in clear are necessary to transform your Lightning into an early photo-recce bird.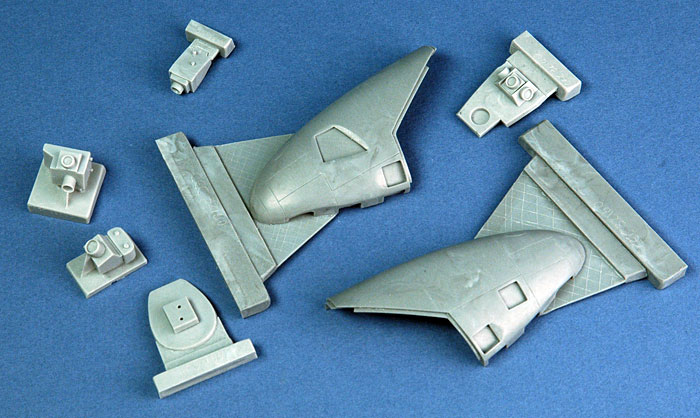 The two large nose halves include locating ridges to assist accurate alignment with the plastic kit fuselage pod. Seven cameras are supplied, although not all will be used depending on the version chosen. Check your references to see which cameras applied to each version.

Windows for each of the cameras are supplied in clear resin.
The casting attachment is not thick, but some care will be required to ensure that only the waste material is removed. A few extra minutes making sure of this may save more time filling and sanding later.
This conversion comprises significantly fewer parts than the kit nose, so it will conceivably speed construction!
---

CEC32159 P-38J/L Super Detailed Cockpit
Cutting Edge has also released a P-38J/L replacement cockpit for modellers who do not want to backdate Trumpeter's kit.
Parts breakdown is the same as the early cockpit, including the flexible resin harness. The most noticeable differences are the radio on the rear deck, and the instrument panel.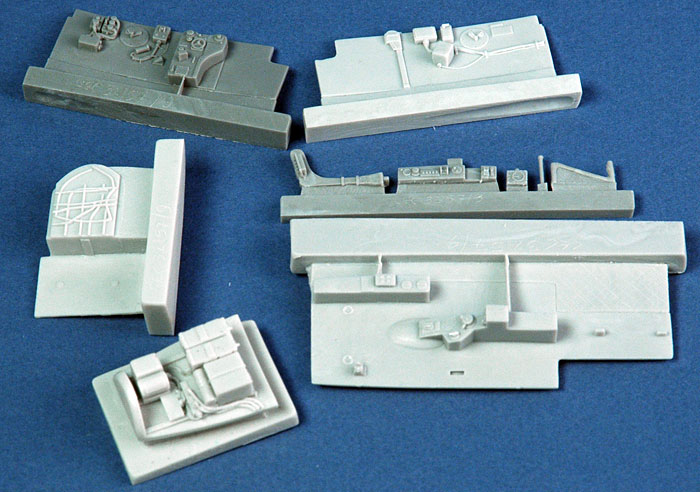 Click thumbnails below to view larger images :
---
Each of these conversion and cockpit sets are produced to a very high standard, and will deliver a measure of individuality to your big Trumpeter P-38 Lightning.
All the sets are clearly marked "For Experienced Modelers Only", and I would agree with that assessment. There is a fair bit of cutting involved with each of the conversions, and the confidence that comes with experience will help get those cuts in the right place. The cockpits are pretty much a drop-fit replacement for the kit parts, so less experience will be required for these.
All Highly Recommended.
Thanks to Cutting Edge Modelworks for the preview information
---
Cutting Edge Modelworks products can be viewed & purchased at Meteor Productions website

---
Images and Information Copyright © 2006 Meteor Productions
This Page Created on 24 August, 2006
Last updated 24 August, 2006
Back to HyperScale Main Page
Back to Reviews Page