As my U-2 project neared completion, I realized I needed corrections to the kit tails to make them accurate. Italeri molds a set of ribs on the upper side, but there should be a matching set of ribs on the bottom, too, and Italeri missed these. An hour or so with liquid cement and 0.010" by 0.020" strip styrene fixed the problem.
After finishing the tails, the thought occurred to me that other modelers might be interested in corrected tails, too. I contacted Cutting Edge (Meteor Productions) and foud them very interested in production a correction set for the tails of the U-2R/S. It would compliment their already impressive line of U-2R/S update/correction sets.
I am only going to show the pieces as they come out of the set in this review. See my built-up U-2S to see this correction set in use.
---
The Update Set Described
The set is made up of only two pieces, molded in the medium gray resin that we have come to expect from Cutting Edge. There were no molding imperfections in the test pieces sent to me.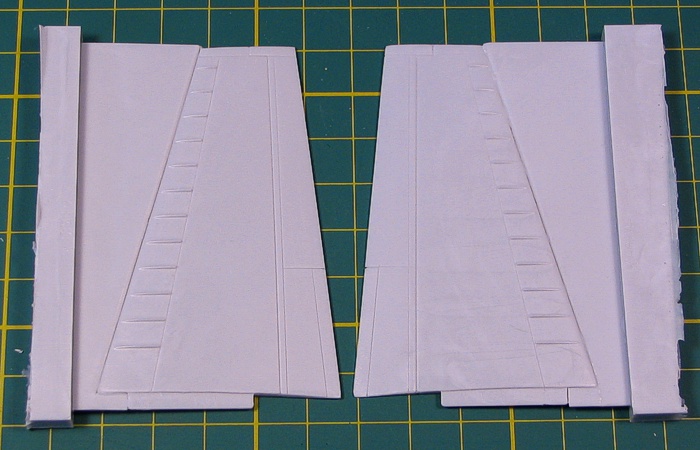 Tail Planes
There are no changes to make to the kit in order to use this set. The pieces are simple replacements of the kit-provided horizontal tails.
Note that the tails are handed with a specific left side and right side. I marked the masters on the mounting tabs to indicate which side is the top side for each tail. See the following image.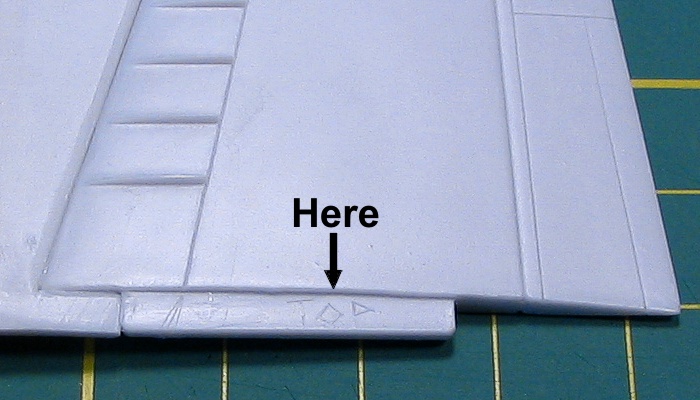 Tail Plane Tabs
Additionally, if you are paying really close attention, scribed onto the slag are small letters inticating the Cutting Edge stock number and a letter ("L" or "R") to indicate which side the tail plane goes on.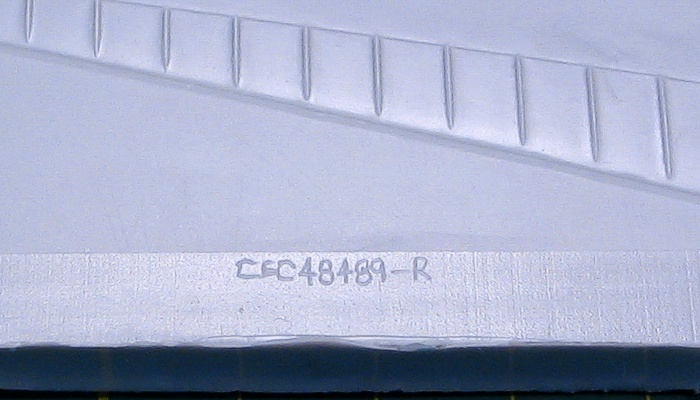 Slag Scribing
While you might feel this set would be a shoe in and really hard to mess up, I decided to write instructions for the set. The instructions make mention of the specific left and right sides to the pieces as well as outlining the usage of the set.
Whether a specific U-2R/S needs these ribbed tails is a function of the serial number for the airframe. All the 1968 model year aircraft (serial numbers 68-103xx) get these ribbed tails as part of the upgrade that modified the wings to use the super pods. The 1980 model year aircraft (serial numbers 80-10xx) have the reinforcing built into the tails and do not have the outside ribs.
You only need these tails if building an aircraft from the 1968 model year after it was updated to use the super pods on the wings.
This is a simple, straight forward set -- two pieces and no kit modifications.
As the designer of the masters, I do not think it is my place to recommend this set or not. I will let the pictures in this posting speak for themselves and leave any recommendations to a more objective reviewer.
(Newest to Oldest)
U-2R/S Walk Around by David W Aungst
On-Line HyperScale Reference, 2003

U-2: The Second Generation by Chris Pocock
World Airpower Journal, Volume 28, AirTime Publishing, 1997

Dragon Lady by Ted Carlson / Toyokazu Matsuzaki
Koku-Fan Magazine, Volume 1996-04, Bunrin-Do Company, Limited, 1996

Recce Tech by Paul F Crickmore
Osprey Color Series, Osprey Aerospace Publishing, 1989

U-2 Spyplane in Action by Larry Davis
Squadron In Action #86, Squadron Publishing, 1988/2002

Lockheed U-2R/TR-1 by Jay Miller
AeroFax MiniGraph #28, AeroFax, Inc., 1988

Lockheed U-2 by Jay Miller
AeroFax AeroGraph #3, AeroFax, Inc., 1983