"Mohawk Mania"
Resin aftermarket for Roden OV-1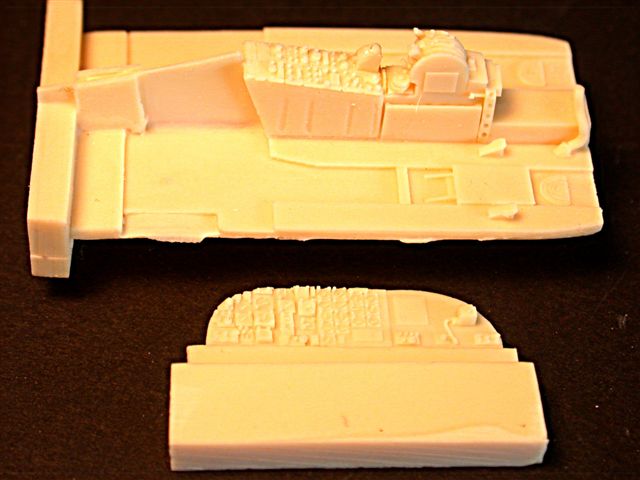 Cobra Company, 1/48 scale


HyperScale is proudly supported by Squadron.com
Reviewed by "Bondo" Phil Brandt
This curmudgeon can't imagine where we road-less-traveled modelers would be without the efforts of small aftermarket firms such as the Cobra Company, outfits that choose with apparent relish to create aftermarket niche detail sets which can bring an elderly, wayyyy below average kit up to contest standards, or "guild the lily" on a current release. The latter is the case with three just-released sets to embellish Roden's excellent 1/48 rendition of the Grumman Mohawk.

Prior to Roden's volume production (over a year ago) of an injected Mohawk, the only 1/48 kit of this bird was the righteous buck ($120) Collect-Aire resin release with all the traditional idiosyncrasies and shortcomings of that firm's earlier efforts. Now, of course, it's a new ball game, and owners of Collect-Aire Mohawk kits are free to either attempt to recoup some of their money at vendor tables or build said kit and enjoy some practice bleeding. So far, Roden has done the A and B/C Mohawks; the IMO definitive version, the D, still awaits release, and that's why the overeager employees of Difficult Kit Division at Bondo Industries chose to convert the Mohawk A to a D, that is, longer wingspan, SLAR pod and all that good stuff, not to mention scratchbuilding the instrument panel.

As is often our luck at Bondo Industries, the completion of a conversion signals the release of said conversion parts by aftermarket entrepreneurs, and this case is no different.
---

Set Components
The largest of the three offerings is the cockpit set. The set contains approximately 31 pieces: Cockpit floor (integrated with the nosewheel well and center console), instrument panel, two instrument panel hoods, a new aft cockpit bulkhead with insulation pads and piping/wiring, overhead instrument panel and bridge structure, FOUR ejection seats (two with cast-in belts and harnesses; two without, allowing for the easy addition of Eduard PE belts), insulated side panels with map boxes, etc., rudder pedals, control column, gunsight and numerous other small boxes and parts.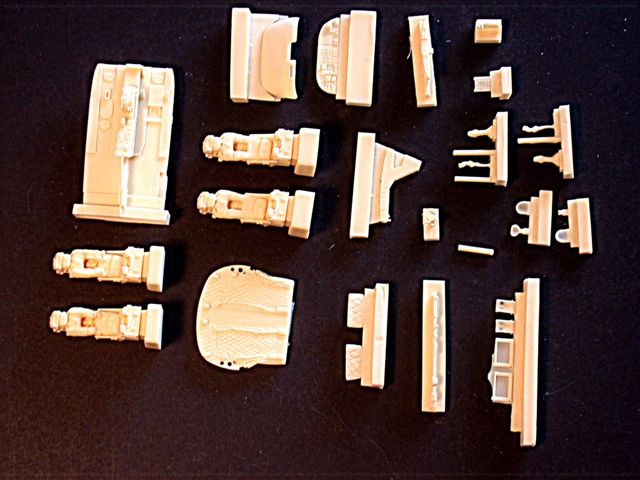 Click the thumbnails below to view larger images:
---
Next are the maingear wheelwells and gear doors, eight components excellently rendered by honcho Chris Miller who, as the "Chief Snake," has been personally responsible for mastering much, if not all, of the eclectic Cobra product line.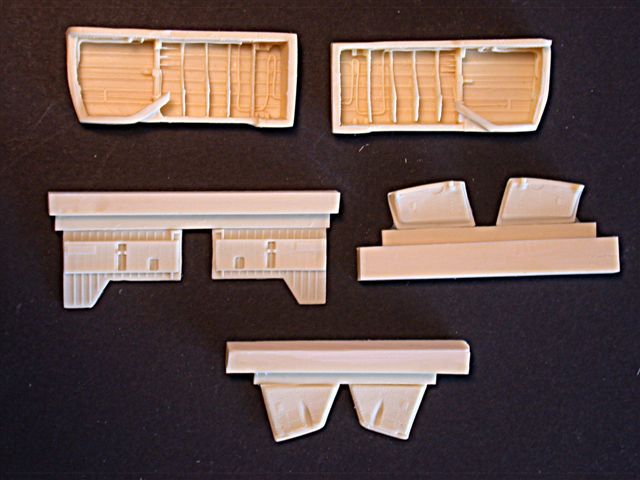 Last, but very helpful, are two, one-piece turboprop exhaust tubes which relieve the modeler of the drudgery of either filling and sanding the interior surfaces of the Roden two-part tubes, fabricating one-piece units from brass tube or, as Bondo Industries did, use thinwall plastic tubing. The delicate thiness of the Cobra outlets is just right for accuracy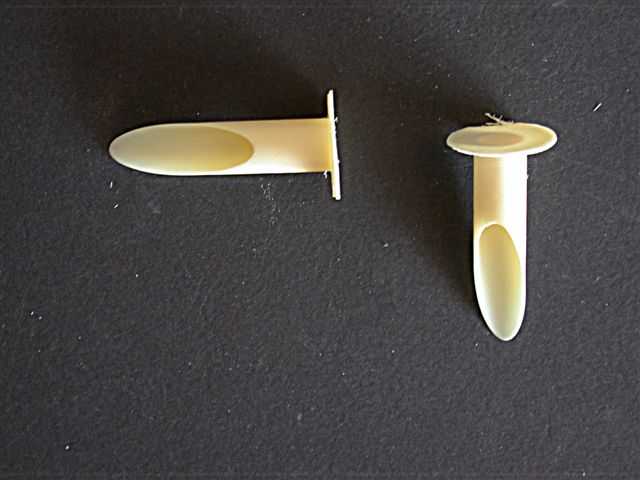 Molding and Detail Execution
Flawless molding; I've found no bubbles or warpage in any part. The details are very fine and sharp. When all the cockpit parts are added to the Roden forward fuselage, it's a significant and welcome improvement in "busy-ness", and such complexity is important to this bug-eyed airframe with a large glazing area.

The wheelwells are somewhat more complex (delicate floor corrugations) than the kit ones, and the large ejection marks (dead center in the stock wheelwell floors) are, happily, gone.

The Cobra seats are very nice and complex, and the cast-in belt versions even have the belts posed differently.
---

Instructions
I've always been a big fan of Cobra's detailed pictorial instruction sheets–IMO their color assembly pamphlet accompanying the complex, much-desired 1/32 HH-43"Pedro" chopper detail set of a few years ago established an enviable industry standard, to date equaled only by the hard-to-find Kazan Mig-23 detail kits. The three-page Mohawk instructions follow in that tradition: many black and white pix of components, two easy-to-understand line drawings and a wealth of detailed text addressing assembly as well as OV/JOV version differences and intricacies.


---
Two thumbs up.
Cobra again hits an aftermarket home run. Although it's too late to re-do the Bondo Industries converted D model, the olive drab Vietnam Roden A kit is still resting up on the to-do shelf and will be much improved with these sets.
Recommended.
"Bondo" Phil Brandt IPMS 14091
---
Review and Images Copyright © 2005 by Phil Brandt
Page Created 12 September, 2005
Last updated 12 September, 2005
Back to HyperScale Main Page
Back to Reviews Page