Conversion Corner
1/32 F2G Corsair Conversion Kit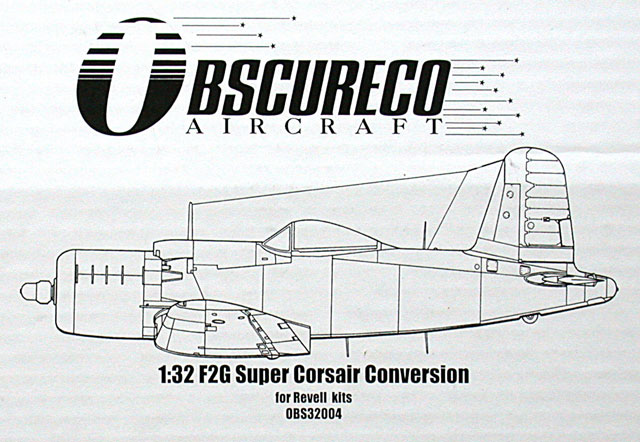 Obscureco, 1/32 Scale


HyperScale is proudly sponsored by Squadron.com
Reviewed by "Bondo" Phil Brandt
Bondo has a predilection for the definitive version of any aircraft, and Goodyear's F2G Corsair rendition is no exception.
Last in a long line of legendary Vought-designed "Bent Wing Birds", these sleek, long-nosed, bubble canopied fighters were meant to counter the plague of Kamikazes that gravely threatened Allied naval forces in 1945 as they fought their way up the long Pacific island chain toward the Japanese mainland. When the war abruptly ended in August of that year, F2G orders were cancelled, with only about eighteen airframes completed, of which five had hydraulically folded wings for carrier work.

The F2G design raised available thrust to a previously unattainable level through use of Pratt & Whitney's new R4360 "corncob" radial. The four-row, twenty-eight cylinder engine was so large that it required significant elongation of the cowling which, together with the bubble canopy, are the main distinguishing characteristics of this Corsair version.

Many of the remaining F2Gs took on new civilian lives as "unlimited class" air racers at such noted postwar events as the Cleveland National Air Races.


Master modeler Rodney Williams - if you've ever seen his build articles online, you know he doesn't do anything less than exacting work - began this labor of love in 1984, and that's why the venerable (and inexpensive) Revell 1/32 F4U-1 kit is the basis for the conversion rather than the latter day, big bucks Trumpeter release. In any event, the Revell bird's original parts comprise but a small fraction of the completed F2G. As in the case of Neil Burkill's marvelous Paragon correction/conversion sets for the elderly Hawk/Testors OV-10, the conversion set is the kit and the original kit can be considered the aftermarket !

We at the Conversion Division of Bondo Industries are used to fairly exotic model conversions such as the above and other Paragon sets, but Obscureco's offering blew us away; this resin assemblage has got to be the alltime King Kong of such undertakings! There are so many components that it was quite a task just to empty all the packets and arrange on a board for photographing; I left over one hundred engine parts in their bag.
---

Parts
The horde of resin parts are crisply cast by Bill Ferrante in gray resin, with nary a bubble or warp in sight. Engraving as good as anything you'll find. There is some paper thin flash which is a normal resin casting characteristic, the removal of which is just "another day at the office" at Bondo Industries. There are so many tiny components that there's not enough room in the newsletter to mention, but take it from Ol' Bondo, they're there. Just think of these deluxe Eduard PE frets with a zillion parts and visualize 'em in resin. Now you get the idea!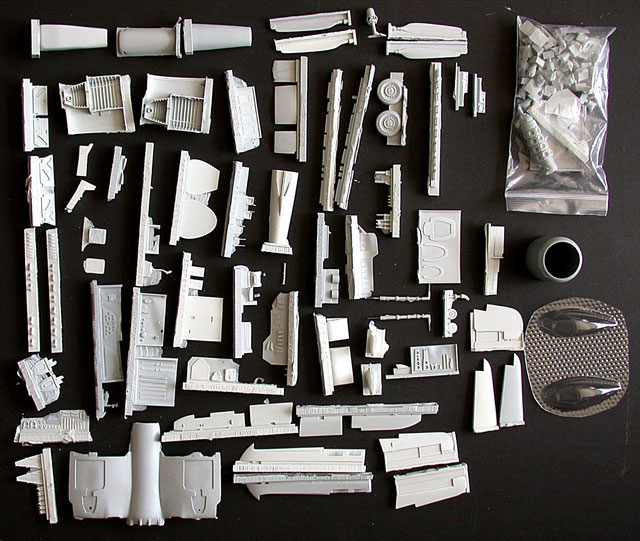 The wings are completely reworked with the exception of the outer panels. Wheel well details are cast in to the new center section. Separate flaps and ailerons are positionable. New landing gear doors included, naturally; even small resin and wire actuators for trim tabs!

The fuselage is gutted and a new cowling(with additional fine structural bracing), cooling air exit sections, cooling flaps, turtledeck and airscoop added. Three various airscoop configurations are included. It will be necessary to scratchbuild--you didn't think this set was for "assemblers" did'ja?--cockpit sidewall framing (easy) and to add separately purchased Waldron instruments. There's some scratchbuilding involved in the cockpit, too, but the consoles, regulators, various boxes and new seat are very nice. The canopy tracks are multipiece and add nice complexity to this big model. Two vacuformed canopies are very smooth and clear.

Landing gear struts are all new, and they're wire-reinforced. New wheels. Lots of tiny-but-nice details parts add complexity. The tailwheel strut and retraction assembly is completely built up just as in the real thing. The tailwheel fuselage housing also gets the scratchbuilt structural strip treatment.

The set includes a new vertical fin, two-piece rudder and elevators.

The engine is built up much like the real thing, with individual cylinders (with individually added rocker boxes) added to the large crankcase (you drill the cylinder mounting holes). Lots more drilling here to add, lessee, fifty-six pushrods fashioned (by you) out of wire. Then you get to create intake and exhaust manifolds out of thick wire or solder; hey, you wouldn't be here if you thought this was a walk in the park, now would you?
---

Instructions
Instructions? We don' need no steenkin' instructions!
Obscureco has come up with what this curmudgeon believes is a modeling "first", an included CD which comprises almost TWO HUNDRED detailed closeup pix of the kit design and model buildup as well as a group of detail shots of the real thing, technical manual drawings and many pix of F2G in air racer schemes and original Navy dress.
Also on the CD is a multipage Word document with a step-by-step buildup chronology. I especially enjoy looking at the pix of Rodney's twenty years worth of mastering efforts.
Unbelievable!!



In fifty-five years of model building I've yet to encounter such a detailed release in any scale, and in view of the sheer resin casting effort alone, I'm surprised that Obscureco was able to hold the price so low. No kiddin'. Proper execution of this kit will guarantee a museum quality F2G, no ifs, ands, or buts. Together, Rodney Williams, Chris Bucholtz and Bill Ferrante have raised the aftermarket modeling bar to an unbelievable degree. They sold out the first batch of kits in two days at Phoenix. I'm surprised it took that long........


---
Obscureco products are available online from Obscureco's website
---
Review and Images Copyright © 2004 by Phil Brandt
Page Created 22 September, 2004
Last updated 22 September, 2004
Back to HyperScale Main Page
Back to Reviews Page