When Academy released their excellent 1/32 F/A-18C in 2003 there were a few puzzling omissions for modelers who wished to make a late production lot variant from either the C or later D model kit. In a kit where Academy was conscientious enough to provide alternate gun vent mesh and other options such as combined interrogator/transponder (CIT) antennas, there was no option for the dual ALE-47 chaff and flare dispensers or the GPS antenna for the spine. I for one found this somewhat annoying as not only did my main interest, RAAF Hornets, have the GPS antenna, but my other interest, TUDM F/A-18Ds, had the dual bucket fit.
After delivering some very beautiful decal sheets for their homeland and other export Hornets in all major scales, F-4Dable Models of Malaysia has finally come to the rescue. Their first resin update set is a lovely little set which addresses both these shortcomings whilst also adding as a bonus "herring bone" style LEX vents in photoetch. F-4Dable have done an outstanding job, with neat, flawless resin castings which provide the dual buckets and fairings for the ALE-47 fit which drop into the space vacated by omitting the kit's single ALE-39 bucket face with minimal clean up of resin carriers. Also included are the aerodynamic extensions for the undercarriage doors and as previously mentioned, the GPS dome antenna.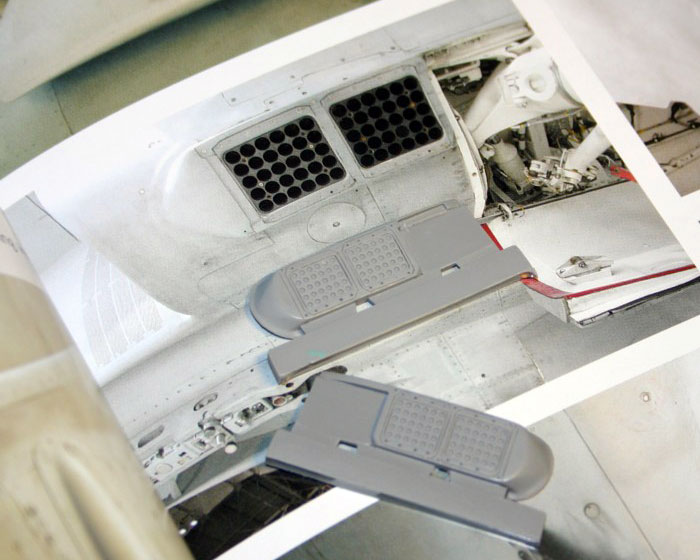 To complete the package F-4Dable includes an instruction sheet which leaves nothing to chance. Diagrams, text description and colour reference photos of the real thing leave nothing to chance. For anyone who wants to build a late production export Hornet or a USN/USMC airframe from BuNo 165171 onwards this set is essential. I for one am glad that I am now able to build the 1/32 TUDM F/A-18D that I have had on the "to do" list since I got hold of F-4Dable's own Export Hornets sheet in 2005.
This set fills an important gap for Hornet modelers and I cannot recommend it highly enough.
Now for those 1/48 scale LAU-128 rails for F-15 Eagles - I can't wait!
Highly Recommended
Thanks to F-4Dable Models for the review sample.
Click the thumbnails below to view larger images: