Conversion Corner
F-5E (P-38) Conversion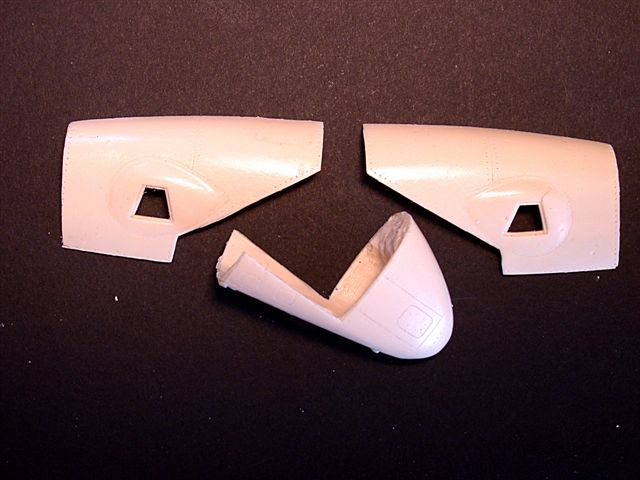 J. Rutman, 1/32 Scale


HyperScale is proudly sponsored by Squadron.com
Reviewed by "Bondo" Phil Brandt

Tell me something I don't know...
As many HyperScale Luftwaffe 'wannabees' already know, Jerry Rutman, does serious correction/update/conversion sets (and even a whole kit) for 1/32 and some 1/72 kits...and he does 'em well!

Move Up to Quality (read "$$")
When our good Trumpeter friends in the PRC recently released what so far is the definitive albeit not inexpensive 1/32 P-38, it didn't take a rocket scientist at Bondo Industries to bow to progress and quickly consign the firm's four elderly Revell Lightning kits to the plastic parts yard, perhaps to be sold at a giveaway price to "practice bleeders."
Recce Forever
As a qualified real-world recce puke (Ret.), Bondo is always attracted to the photo reconnaissance version of any airframe, and the Forked-tail Devil is no exception. He also loves D-Day invasion stripes, especially when combined with overall PRU blue as seen on the back cover of the Squadron P-38 Walkaround book. Breaks up the 'acres' of NMF on such a large model, don'tcha know!
Takin' Care of Business
A recent post to the HyperScale "Plane Talking" Forum gave a link to a French outfit, Contact Resine, which had announced (April release, they said) a solid resin conversion recce nose, but then I saw that good ol' Jerry Rutman up in Bondo's home state was not only doing said recce nose, but also was offering a cockpit update and corrected props. And, it's a whole lot easier for folks in the U.S. of A. to do business in-country than to deal with the vagaries of the EU monetary system.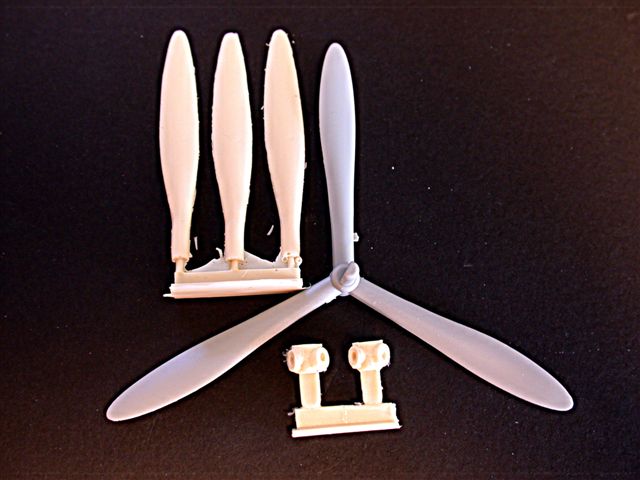 One week and sixty-five postal mailorder bucks later (incl. $5 postage)--unless you don't mind waiting four weeks or so for your check to clear--Jerry's aftermarket creations were being eagerly examined in the Bondo Industries labs.

The Nose
This is excellent work, in both mastering and casting. Although there is some tissue paper-thin flash, it can be whisked away with the light touch of an Xacto blade. The recce nose is done in three pieces, much like the Trumpeter kit components and is hollow-cast; if the modeler wants to do camera bay details, etc, it's Scratchbuild City.
But then, you wouldn't be reading this if you were strictly an assembler, would you? :))
Preliminary fitting of the recce nose side panels reveals that slight filing of the lower join line may be needed. Jerry includes clear sheet for the camera windows.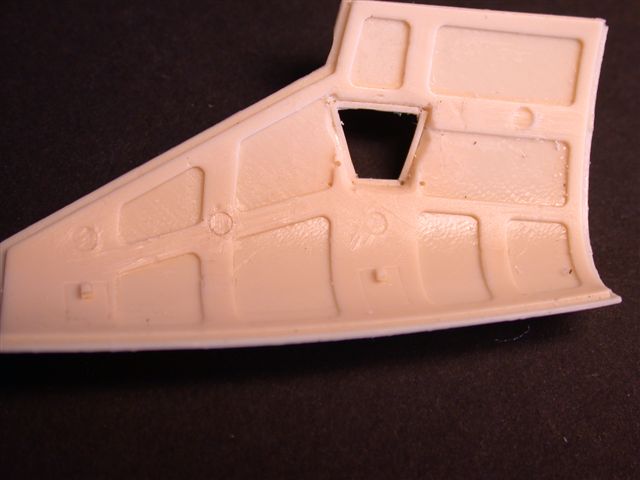 No recce nose assembly instructions are provided, probably with the assumption that the modeler isn't one of those guys who post to the HyperScale Forum plaintively asking if anyone's got the instruction sheet for a six-piece Frog kit! :)
---

Cockpit
The side-by-side cockpit parts comparison pix should be self explanatory as to what details have been embellished. The changes are often subtle, but will be more meaningful when treated to drybrushing and/or washes.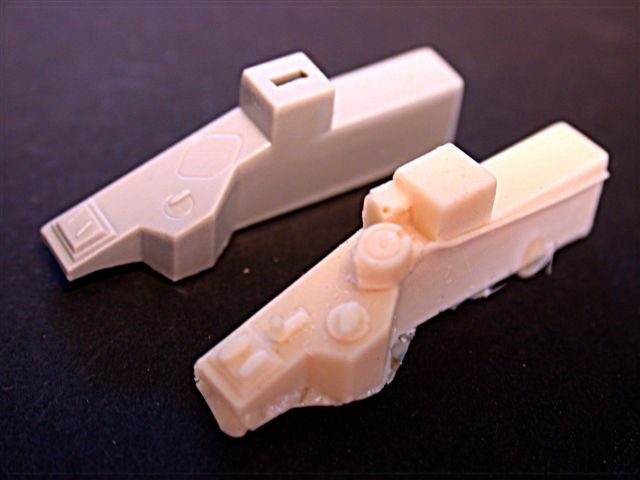 Click the thumbnails below to view larger images:
---
Note that certain Trumpeter parts are to be CA'ed to the Rutman resin part; the radio/avionics deck components behind the seat are one example. Jerry even includes a flexible section of green oxygen hose. Cockpit assembly instructions are as personalized as you can get (see pic)!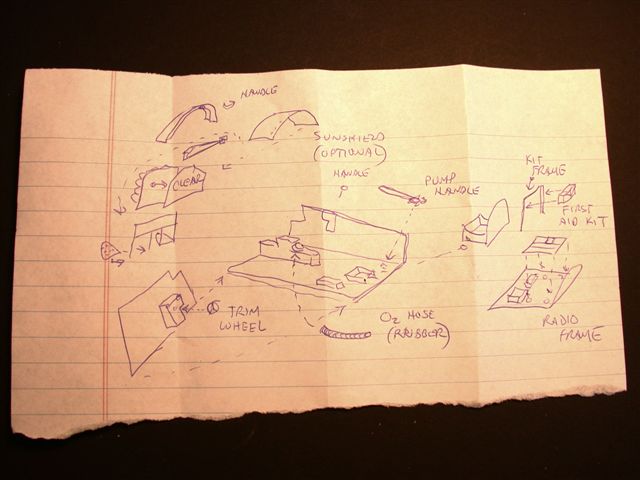 Jerry Rutman's dedicated, one-man efforts to fill an important aftermarket niche in plastic aircraft modeling are marked by an unbroken string of eclectic triumphs, a string now extended by these P-38 sets.
Bondo's thumbs are aimed skyward!
Recommended.

---
The full range of J. Rutman's kits and accessories may be viewed and ordered from his new website at http://jrutman.playnet.com/
---
Review and Images Copyright © 2004 by Phil Brandt
Page Created 23 June, 2004
Last updated 03 July, 2004
Back to HyperScale Main Page
Back to Reviews Page