S-3B Viking
Bomb / Wheel bays
Super detail set for
Esci/AMT/Italeri 1/48 S3-A Viking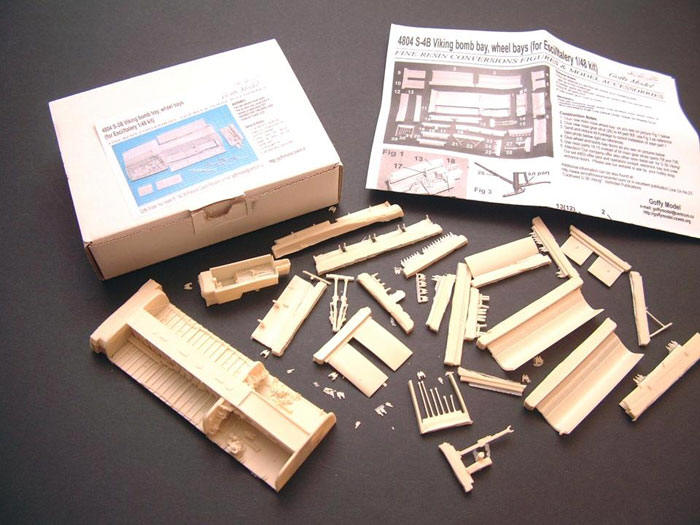 Goffy Model, 1/48 scale
S u m

m

a r y

Catalogue Number:

Goffy Model Item Number GOF4804 - S-3B Viking Bomb/wheel bays (designed to fit Esci, AMT, Italeri 1/48 Viking

Price:

Set purchased at Hannants : £21.40 (about 39.76 USD, 31.28 EUR ) plus P&P http://www.hannants.co.uk
Other retailers are listed at Goffy's website: http://goffymodel.czweb.org/index2.html

Scale:

1/48

Contents and Media:

95 Resin parts cast in cream resin

Review Type:

First Look

Advantages:

Much needed item – completely replaces a highly visible area. Tremendous improvement over kit parts – marvellous detail, well cast; accurate. BRU-14A racks are separate parts. Excellent fit, easy to install. Excellent instructions.

Disadvantages:

Several small parts broken and loose, some nasty air bubbles in nose bay.

Recommendation:

Highly Recommended
HyperScale is proudly sponsored by Squadron.com
Reviewed by Nuno Andresen
As memories go back, one of the best kits of the early eighties was the Esci Viking. Originally issued in 1980 it had one of the most striking box art ever, featured engraved panel lines and had a lovely decal sheet. It made quite a stir in the model community at those days.

The kit made quite a stir: It was really terrific, nevertheless, sparse in many details – both cockpit and internal bays were simple representations of the real thing. And while the cockpit remains almost hidden in a dark tinted dome the same can not be said about the Viking bays. In fact, they are highly visible in the real aircraft. Even more if the bomb/torpedo bays are open.

This is the kit part. It can't be more simple: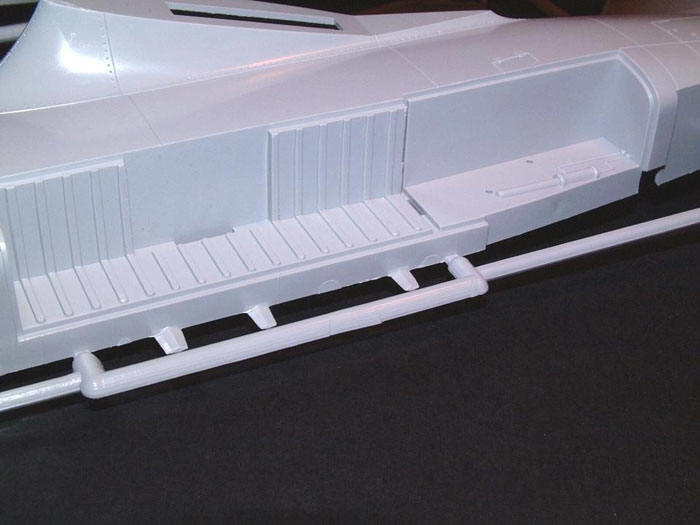 So now you see why many asked so much for a replacement part.
---

Set Components
It was a long wait but twenty six years later a new player arrives to solve this old sorrow of jet modellers.

This is the breathtaking one piece moulding main bays, designed to replace completely the existing area of the original kit: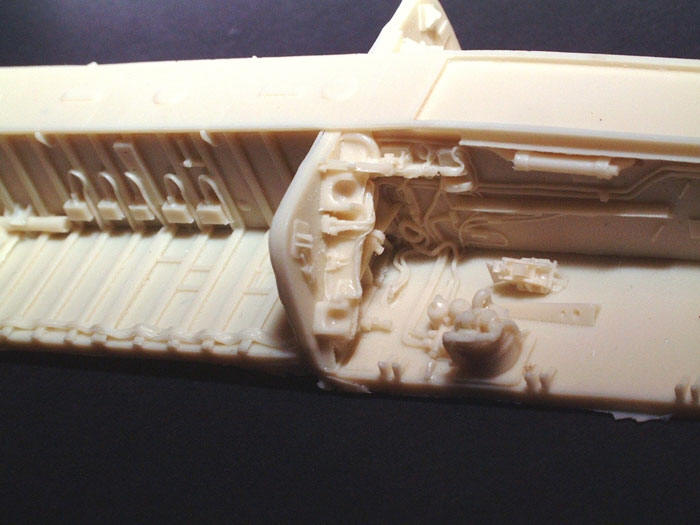 Click the thumbnails below to view larger images:
---
Simply extraordinary. Look the detail surrounding the anchor points of the main landing gear.

The new doors are also highly detailed. See in the thumbnails above, how these parts are extremely thin however perfectly straight and without warping.

While the supplied parts are a remarkable improvement, I have to mention that in my sample the nose bay could be better casted.
Also, many small parts came lost or damaged inside the robust card box. however many spares are provided. Due to their small size, etching could be a better choice. Nevertheless if some of these small parts will still be needed, making new ones from sheet plastic will be a piece of cake.

But believe me it's a minor issue nearby this – Above you saw the portside, bellow is the starboard side of the Goffy bay: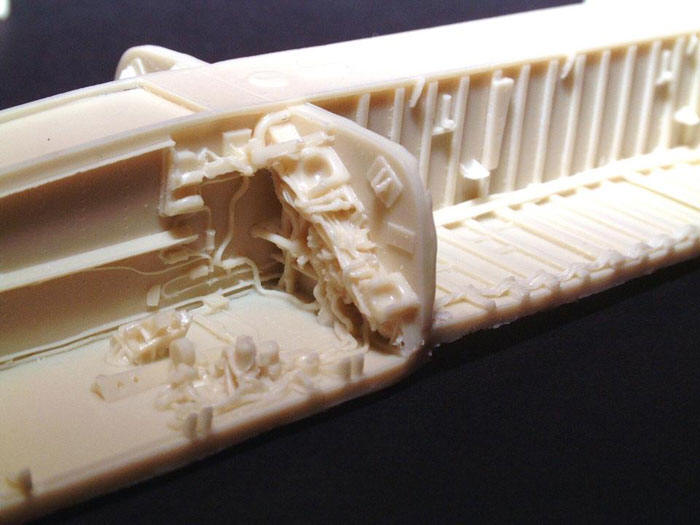 It really sets the model apart and cries out for careful place and delicate painting.

Finally let's mention instructions:

These are cleverly designed and fool proof. Easily someone plans his work to start a magnificent model.




Obviously, one of the most important aspects of a resin upgrade set is fit. Therefore I picked the current Italeri kit to test the fit of this set.

There are many ways to perform surgery in models. As a tool, I prefer to use scribers, pointers and engravers rather than knives and scalpels. If you ask why, simply because consecutive deep cuttings are quite more gentle, therefore precise and the risk of scratching the model is very small.

So, to cut this kit I choosed a recent acquisition – The Hasegawa Line Engraver. A superb precision tool designed to reescribe airframes. Model surgery may not be the primary function of this tool however working freehand, a straight and sharp cut was easily achieved.

First working on the inside:
Then on the outside: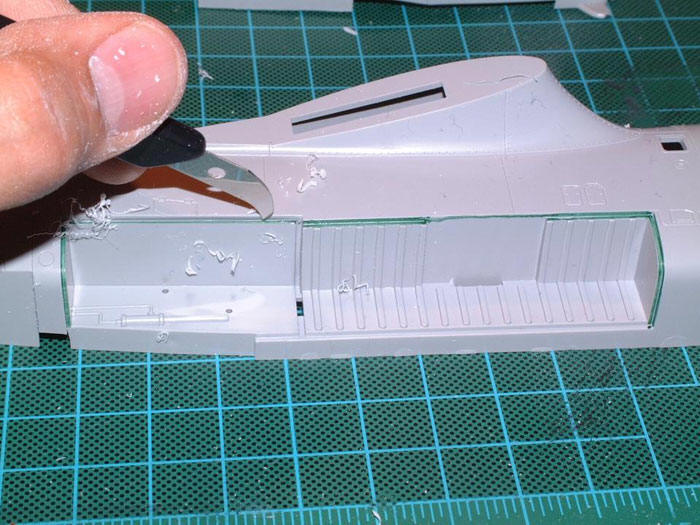 In about ten minutes, parts were split apart.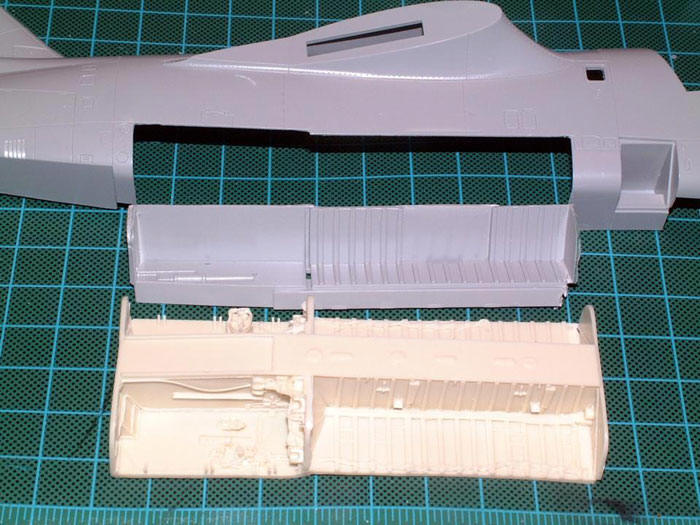 If I may pass an advice to novices regarding after market sets, one of the most important aspects when dealing with products such as wheel wells is thickness: Normally these sets fit perfectly if thickness of the plastic kit is strongly reduced to almost paper thin. Goffy bays are no exception. Never fear this task – Precision sanding is done quite easily using a sanding block: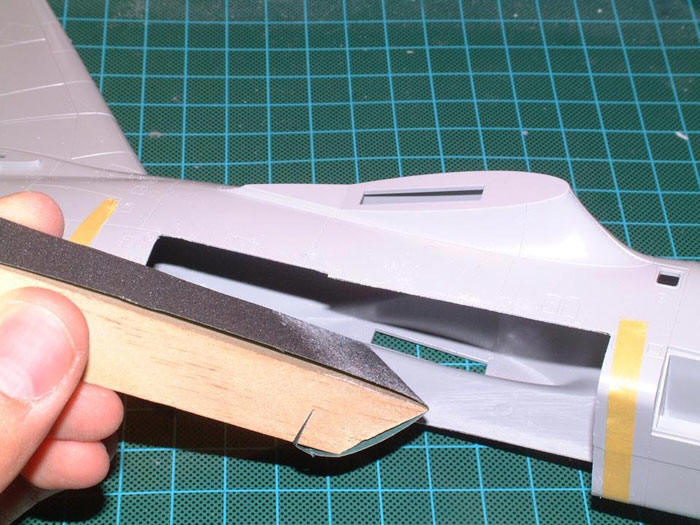 Normally sanding blocks are the tool of choice by ship modellers. If you never used one, give it a try. It's fast and accurate and both ends perform superbly well in creating smooth and uniform thin surfaces.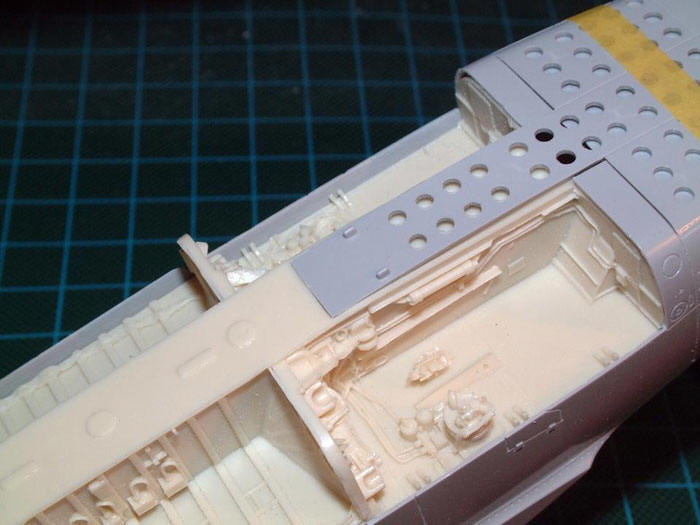 This operation was not complicated or time consuming. In short all parts went perfectly together creating, as expected, a fantastic assembly. Here is a dry fit. No glue was used, only tape to hold together the fuselage halves and the sonobuoy part

A final word for all super detailing guys out there deals with Viking references – There aren't so many for you to choose. However I found in my library these:

The Wingmasters issue has a fabulous 1/48 super detailed Viking, the Replic issue deals with the 1/72 Hasegawa model but has an excellent walkaround to guide your project.

The VP book is, in my opinion quite sparse. For example it doesn't give you details about the weapons. Just a simple shot of a pratice bomb. This is not the case of the excellent article inside the World Air Power Journal volume. You'll love the potential of this issue to super detail your Viking –you will also find out how there are so many weapons still to be made in quarter scale!

Finally you may also use Hyperscale reference pages:

http://www.clubhyper.com/reference/updatingyourvikingbs_1.htm





As you can see I really enjoyed this set. There are small issues the manufacturer must fix in upcoming castings but these are really minor stuff.

Goffy Models hits the nail in the head with this set. I am anxious to give it a coat of paint to bring it to life, as these detailed bays really deserve to be shown in all their glory.

The wait is over!

Highly Recommended to all jet fans wishing to add the veteran Viking to their shelves!

---
Review and Images Copyright © 2006 by Nuno Andresen
Page Created 19 May, 2006
Last updated 18 May, 2006
Back to HyperScale Main Page
Back to Reviews Page