F-16 Airframe Stiffener Plates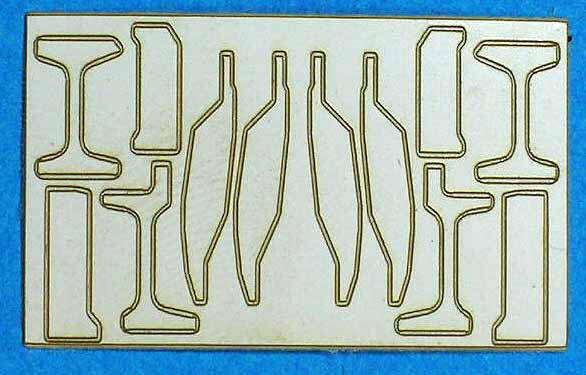 Orion Models
1/72, 1/48 and 1/32 scales
S u m m a r y

Catalogue Number, Description, Scale and Price:
OMV72001 Hasegawa and Revell F-16 (Price $4.00)
OMV48001 Hasegawa & Academy F-16 (Price $6.00)
OMV32001A Academy and OMV32001T Tamiya 1/32 F-16 ($8.00)
available online through OrionModels@aol.com
Contents and Media:

See text below

Review Type:
FirstLook
Advantages:
Helpful accessory for an authentic touch.
Disadvantages:
Recommendation:

Highly Recommended


HyperScale is proudly supported by Squadron.com
Reviewed by Ryan Fernandez
How can one scale plastic model stand out among all the other plastic models? Simple, it's in the small details!
It has been a while since I've seen new products from Dave Roof's, "Orion Model Accessories," and it seems he has been busy lately. Back in 2000, Orion Model Accessories, today abbreviated to Orion Models, released their first 1/48 decal sheet ORD-48000 depicting VMFA(AW)-225's Vikings F/A-18D Hornet. The decal sheet included a comprehensive instruction sheet for decal placement/paint markings and even decals for the ejection seats. I thought it was a nice touch for the formerly new company! Strange though that the Vikings sheet was followed by decal sheet ORD-48016 Kuwaiti Air Force F/A-18C/Ds resulting in a mysterious gap in item numbers that I can't figure out! Did I miss something?
Joining us once again in the scale modeling world with new products for mid-2005, Orion Models has introduced a couple of new self-adhesive vinyl decals in three modeling scales (1/72, 1/48, and 1/32) for the F-16 Fighting Falcon airframe reinforcement plates ("scab plates") and in 1/48 scale alone, AV-8B/GR.5/7 Harrier II MDC, reviewed earlier. Also available but not reviewed are F/A-18 vertical fin reinforcement plates. Please note that these new products are not of the water-slide variety!

Tools needed: A good pair of tweezers, light source, a new number 11 blade, toothpicks, pen or pencil.
---
F-16 Airframe Stiffener Plates
First up in my review are the 1/48 external airframe stiffener plates (or "scab plates" – photo 1) found on current Block 25/30/32/40/42 model F-16A/B/C/D Fighting Falcons (including European MLU (Mid-Life Update) F-16s).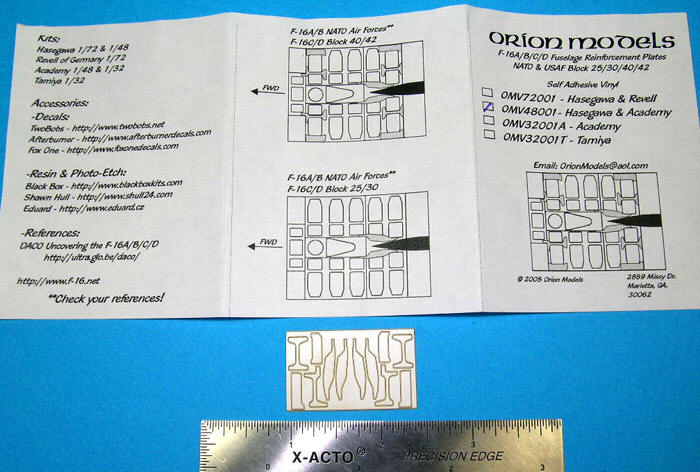 These plates were retrofitted to help reinforce the F-16's airframe because the USAF's "lightweight fighter" was now becoming a heavier jet with newer equipment/weaponry add-ons as the years pass by (sounds familiar?). Note that Block 50/52 and later F-16s (Block 60 and beyond) don't have the plates fitted as they have been strengthened internally during production.
Until now most modelers trying to simulate the F-16's stiffener plates have had to either scratch-build these details with plastic sheet and only if you had good photo references and/or line drawings, or open their wallets to obtain the expensive Eduard F-16 1/48 photo-etch set with the scab plates. The latter of which I have still not been able to locate because I haven't a clue what item number it is and the stiffener plates are definitely not found on both Eduard 48-331 F-16CJ Block 50 set (thanks so much to the modeler who misinformed me) and 48-391 F-16A PLUS/MLU sets! Yes, let's see that's $17.99 and $22.98 respectively plus shipping and handling! Doh!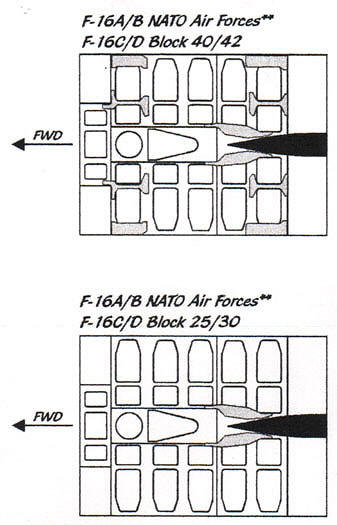 Now Dave Roof's Orion Models has come to our rescue for much less in price! The scab plates come to you with a well done black & white instruction sheet indicating decal placement guides for all 10 of the upper fuselage plates seen on USAF F-16s. I got confused though because the instruction sheet also shows that Block 25/30 jets have only two reinforcement plates (photo 2 above). I thought they had all 10 too. It goes to show you that reference material is always helpful, so check your references. So what about the decals? I'm getting there okay?
The pre-cut scab plates at first glance appear like paper decals and are easy to use: just peel and stick! I don't know if they are die-cut or laser cut but I'd go with the latter. Unfortunately, the scab plates are not numbered so before you go sticking away, stop and check which goes where and what way! I labeled each scab plate on mine left (L) or right (R) (photo 3 below) and its orientation to the front of the model with a fine-tip Sharpie pen so I don't go crazy trying to figure things out while trying to stick it on the model. Prior to applying the vinyl decals, make sure to wipe down the surface with isopropyl alcohol (rubbing alcohol) or wash the kit with soapy water and let dry to remove any oily substances (ex. fingerprints or mold release agents) that may prevent good adhesion of the scab plates to bare plastic. (I didn't have a chance to paint my kit during this review.)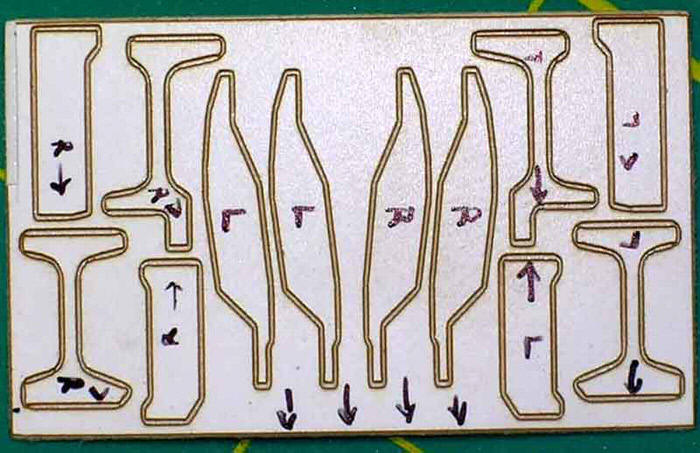 The vinyl goes on easy and can be pulled off if you make a mistake when applying them on the kit but only if you are careful and work slowly. Otherwise, from experience with other vinyl-type decals, you can deform the material by stretching it as it's pulled off the surface to be realigned.
You can reaffix the scab plates several times before they start losing their stickiness so do yourself a favor, do work slowly and do it right the first time! I suggest placing one end of the decal down first (photo 4) making sure it's in the correct position and then work your way up to the other end to prevent trapping air bubbles underneath.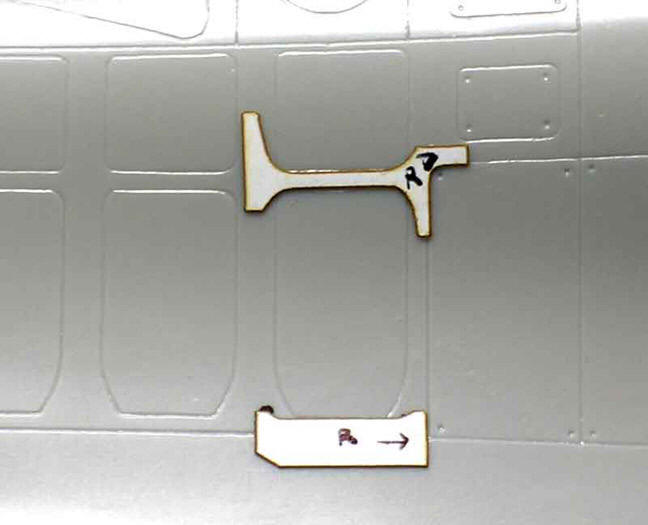 The decal thickness for the scab plates in my opinion looks good in 1/48 (as reviewed) and even realistic in 1/32 (my guess). However, I do think that in 1/72 scale the vinyl decals will appear too thick and look out-of-scale in this modeling scale, so you 1/72'ers lose out here even if you say that you've more aircraft choices – HAHAHA! After less than 30 minutes, I was done!
Highly Recommended.

---
References:
F-16:
Uncovering the Lockheed-Martin F-16 A/B/C/D. Danny Coremans & Nico Deboeck. Daco Publications 2001.

World Air Power Journal. Vol. 36 Spring 1999. Pages. 58-107. AIRtime Publishing Inc.
---
Review and Images Copyright © 2005 by Ryan Fernandez
Page Created 14 September, 2005
Last updated 15 September, 2005
Back to HyperScale Main Page
Back to Reviews Page