Schatton-Modellbau produces a range of metal gun barrels and accessories in various scales for armour and aircraft models. Their latest effort is designed to convert the Dragon/Revell and Tamiya Me 262 kits into the heavily armed Me 262 A-1a/U4 version. This variant was fitted with the powerful 50mm MK 214 cannon..
The big 50mm cannon is the focal point of this variant. Schatton-Modellbau's 1/48 scale cannon barrel is supplied as a single part in machined brass. The subtle shape of the hollow muzzle brake is faithfully reproduced. The holes in the muzzle brake are precisely drilled.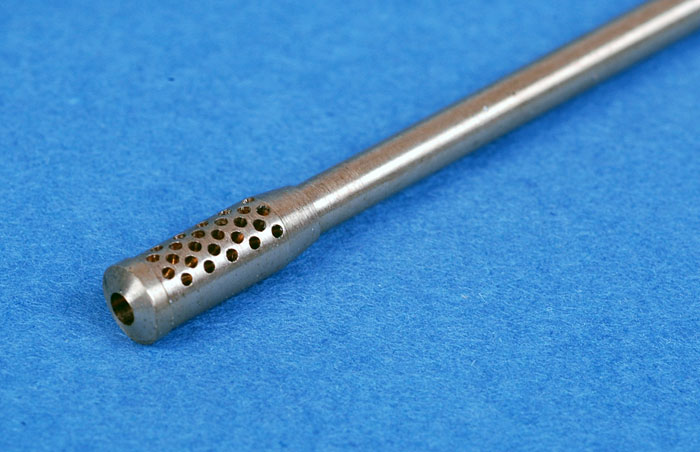 The effect is equally impressive when viewed from the outside of the barrel, or when looking straight into the muzzle brake from the front.
No preparation is required for the barrel - it is ready to install.
The resin parts are equally nice. A solid replacement nose is cast in shiny, off-white coloured resin. There is no casting block to speak of, so the nose should be ready to install with no preparation or cleanup. Casting quality is first rate, with no imperfections on my sample. Surface detail is by way of finely recessed panel lines. Structural details are cast inside the nose wheel well too.
The remaining four resin parts are for the landing gear covers.
Instructions are basic at best, so you will have to take care when measuring and cutting off the nose of the donor kit. If this single is precisely made, though, the conversion will be very simple indeed!
Schatton-Modellbau's 1/48 scale Me 262 A-1a/U4 (and V056 prototype) conversion is beautifully produced, and will have an obvious impact on the profile of your Me 262 kit. Some experience will be helpful when cutting off the nose of the donor kit, but this should be within the capabilities of most modellers.
Highly Recommended.
Thanks to Schatton-Modellbau for the review sample
---
A full price list of this and their other products is available on Schatton's website http://www.modellbau-schatton.privat.t-online.de. Orders may be placed via email.