What modeler has not wished that they could build a suitable setting for his recently finished aircraft model, either for permanent display or for the photo studio at home?
---

Components
Under the label "Mark58", a wide range of modular airfield groundwork and splinter boxes are now available. The groundwork and boxes are suitable for different nations of World War II and go with 48th and 72nd scale perfectly.
The parts consist of a ceramic-like material and come in a modular setting. Therefore everyone is able to build a splinter box after his own personal conceptions.
The overall quality and detail is very good.
---

Construction
To start with I choose a large splinter box design with three sidewalls for my photo studio at home and of course for an eye-catching presentation at model events. First of all the size of the setting was determined. It should be big enough to give a common twin engine aircraft like Ju88 or Me110 shelter.
Then the components for the sidewalls and the groundwork were laid out diagonally to find a pleasing look for the diorama.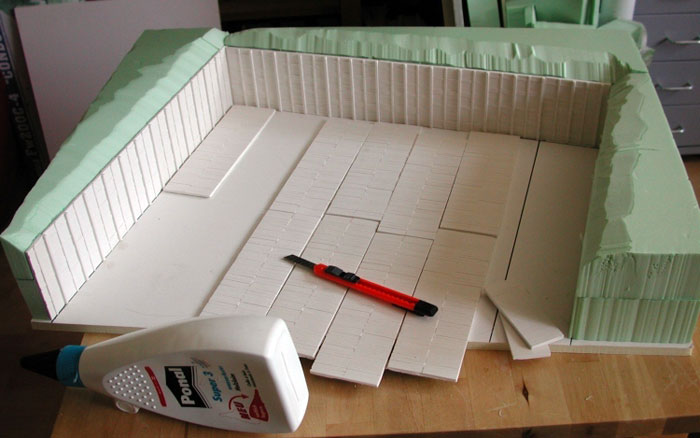 Later I used KapaLine for the base plate.
Before all the components could be sawed to their final length, the material for the earth walls has to be formed out of Styrodur. Also the anti-aircraft site was cut out using a hot wire cutting equipment.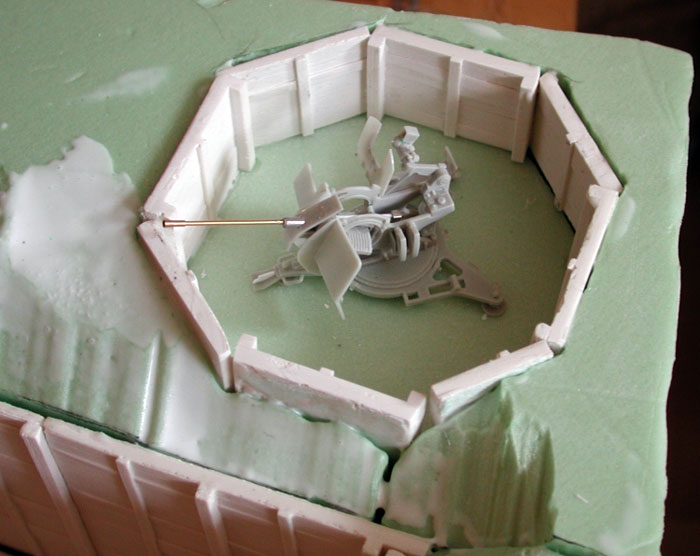 Everything was glued in place with water resistant white glue. Then I mixed white glue and different kinds of colour pigments to form the ground structure with a palette-knife. Different sizes of stones and small branches are spread and put randomly into the still damp ground structure.
Click the thumbnails below to view larger images:
---

Painting
All the components representing wood are airbrushed in a not so dark brown with several boards outlined and painted in a much brighter brown. After that a wash was applied using Umbra Burnt oil colour. The last step of finishing the splinter box components was a dry-brush with beige enamel.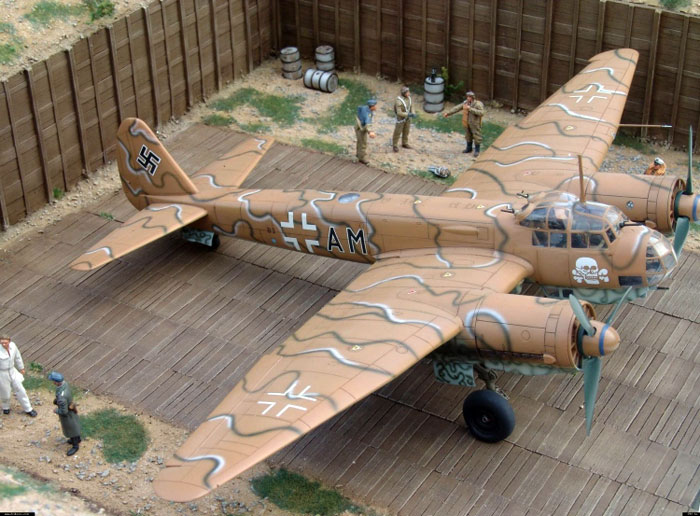 Click the thumbnails below to view larger images:
---

Accessories
Not all the vehicles, figures and accessories are glued on. This allows you to arrange several different settings for photo and exhibition purposes and to add all the new stuff which is still lying in your cabinet waiting for assembly.
---

Information
For further information about pricing and availability please contact Mr. Marc Toille: info.mark58@hotmail.fr
Highly Recommended.
Additional Images of Fighter Splinter Box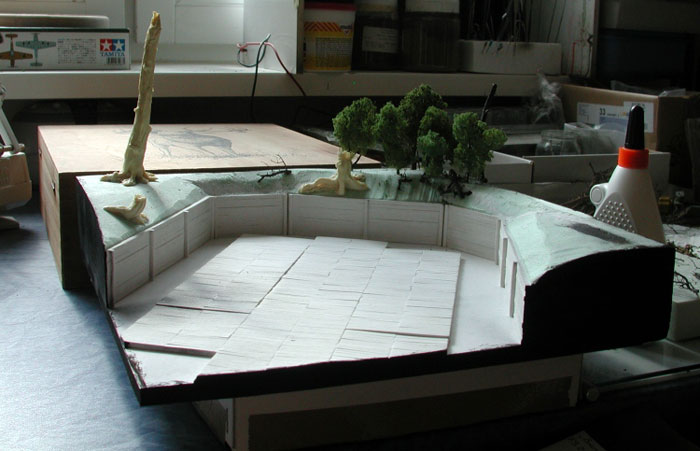 Click the thumbnails below to view larger images: